Stocks were on a roller coaster ride last week!
On Monday, stocks were higher after a weekend meeting between President Trump and Chinese President Xi.
It sounded like the two countries were eager to work together on trade. The U.S. promised to not raise tariffs at the beginning of 2019, and China committed to buying more from the U.S. to reduce the trade deficit between the two countries. The goal was to have trade differences hashed out over the next 90 days.
---
— RECOMMENDED —
Get Out of Cash Now
Former hedge fund manager with a long track record of accurate predictions says a huge shift is coming towards the U.S. stock market in as little as 6 months that will determine who gets wealthy in America and who gets left behind.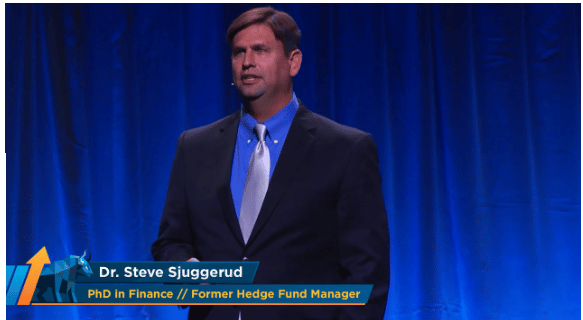 ---
But so much for the optimism…it was all downhill from there.
The S&P lost 3.2% on Tuesday.
On Wednesday, U.S. markets were closed to honor former President H.W. Bush.
Then on Thursday, stocks were tanking again.
---
— RECOMMENDED —
MENSA considers him a genius!
Find out how this former landscaper makes millions trading the trickiest market
---
But there was a midday comeback after two Fed Presidents said that rates were approaching the neutral level. Around the time of the bounce a Wall Street Journal report also came out, saying the Fed could be more cautious after a rate hike in December.
The S&P finished Thursday with a 0.2% loss. But the loss felt great. Especially since the S&P was down as much as 3.0% during the day!
Then on Friday it was nothing but selling again. The S&P lost 2.3% and finished the week with near lows with a 4.6% loss. This is the 2nd biggest weekly loss of the year.
---
— RECOMMENDED —
FREE PENNY STOCKS WEBINAR
How You Can Get BIG Gains from a Small Account… FAST!
---
Here's what traders were focused on last week:
Trade – There were mixed messages all week about trade. On Monday, it sounded like the weekend meeting between the U.S. and China was a success. But then President Trump was tweeting that he was a "tariff guy" and there were rumors that China was confused about the progress and comments Trump made.
Meng Wanzhou's Arrest – The CFO of Huawei, one of the largest smartphone companies in the world, was arrested in Canada for violating U.S. trade sanctions on Iran. The arrest has led to increased trade tensions between the U.S. and China. The U.S. has claimed that Meng sold equipment to Iran through a shell company.
The Fed – The Fed is expected to raise rates at their December meeting on December 19th. But traders are focusing on what the Fed plans to do next year. And any Fed news or comments about the "neutral" level and slowing rate hikes, is definitely considered a positive for stocks.
---
— RECOMMENDED —
Three Simple Trend Lines
Tranquil Trading: "All You Need is 3 Simple Trend Lines"
---
Here's where the major indices ended the week:
The S&P finished with a 4.6% loss. Down 127 points, the S&P ended at 2,633.
The DOW ended lower by 4.5%. Dropping 1150 points, the DOW closed at 24,389.
The NASDAQ was down 4.9%. With a 361 point loss, the NASDAQ finished at 6,969.
Bitcoin finished lower by 14.8%. Down $575, Bitcoin ended at $3,320.
---
— RECOMMENDED —
Learn How You Could DOUBLE or TRIPLE Your Account in One Week!
Find Out How With The #1 Selling Trading Guide: Now Yours For FREE!
---
Crude Oil (CL) was higher for the 2nd week in a row. With a 3.2% gain, CL finished at $52.60 a barrel. The move higher came after an OPEC meeting resulted in a tentative deal to cut oil output.
The VIX (aka "Fear Index") jumped 28.6% last week. It didn't rise to the levels that we saw in February and mid-October. But it was the 4th highest weekly close of the year.
In earnings news, lululemon athletica (LULU) lost 13.4% even though earnings beat analyst expectations.Ulta Beauty (ULTA) lost 13.1% after worse than expected guidance.
Source: RockwellTrading by Markus Heitkoetter | Original Link