News regarding the U.S. pulling out of the Iran deal looks to be putting some volatility back into the market as investors take some risk off the table and try to make sense of the news. Should we be more on the defense as we look for a our top stock trades going into Wednesday or be searching for opportunity?
Top Stock Trades for Today #1: Nvidia (NVDA)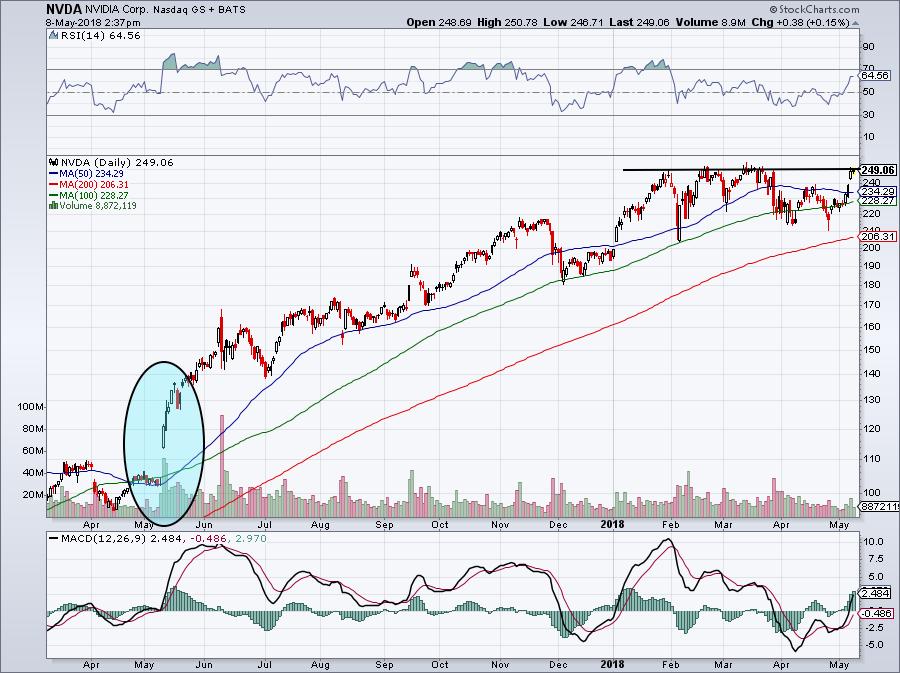 Nvidia Corporation (NASDAQ:NVDA) surprised a lot of people, rallying about 10% in just a few days. It's put shares smack-dab up against $250 resistance just days before it reports earnings May 10th.
What should investors do? I'll admit, it's a tough one. Last May, shares ignited out of a multi-month consolidation pattern on earnings. We've seen strong results out of Advanced Micro Devices, Inc. (NASDAQ:AMD) and Intel Corporation (NASDAQ:INTC), so why should we think Nvidia will be any different?
For Nvidia, it comes down to risk tolerance and time frame. If investors can stomach a 10% to 20% decline and plan to hold Nvidia for 5 or more years, buying now doesn't seem bad even if Nvidia is hitting resistance. That's due to the long-term catalysts and secular environments in which it operates.
Risk-averse investors with shorter time frames will want to see how it trades post-earnings. A breakout will likely fuel NVDA to $300. A pullback could send it to $206, where the 200-day moving average is.
Is that too wishy-washy of an answer? Maybe. But in trading it's not always black and white. Let's not pretend that the only opportunity investors have had in NVDA over the last two years is this week of trading with it now at $250. There's a price to pay for being that late and it comes in the form of tough decisions. It's up to you to decide where you fit.
Top Stock Trades for Today #2: JD.com (JD)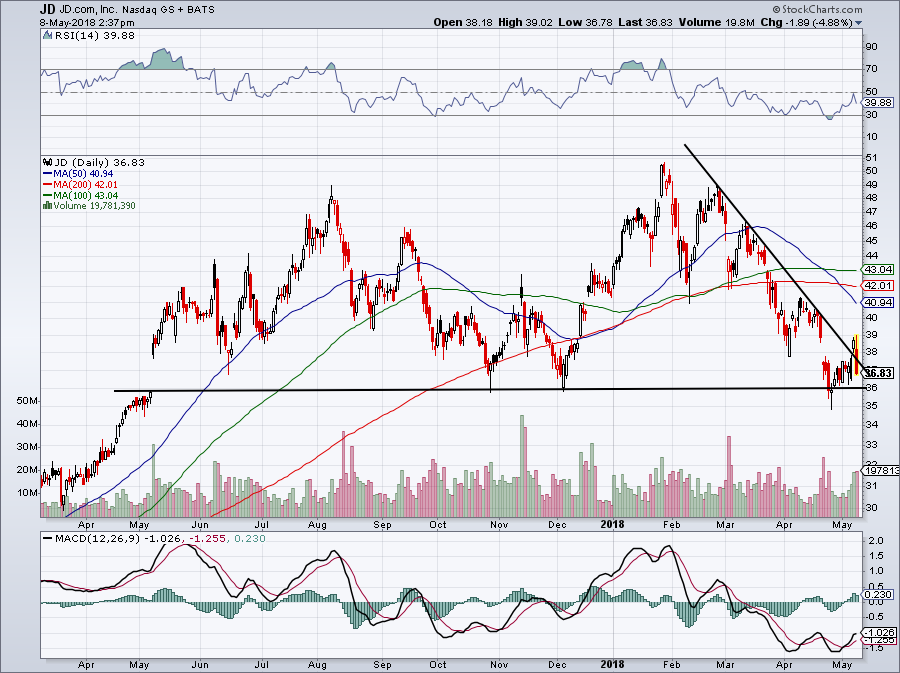 JD.Com Inc(ADR) (NASDAQ:JD) crushed revenue estimates, but came up short on earnings. That's got shares down about 5% Tuesday.
Just when the stock was looking like it may piece together a decent rally, it falls apart on us. At least JD stock is simple at this point. Bail if it closes notably below $36 and buy on another breakout over downtrend resistance.
---
— RELATED—
Now, For the First Time Ever,a Former Wall Street Hedge Fund Manager Reveals How You Can Unlock the Secret "Backdoor" Into…
"Washington's Private "Pension Plan"
And collect up to $11,334 per month thanks to this "off-the-books" retirement income source that pays retired congressmen and government insiders millions each year…
They've been praying you'd never find out about this…
---
Top Stock Trades for Today #3: Valeant (VRX)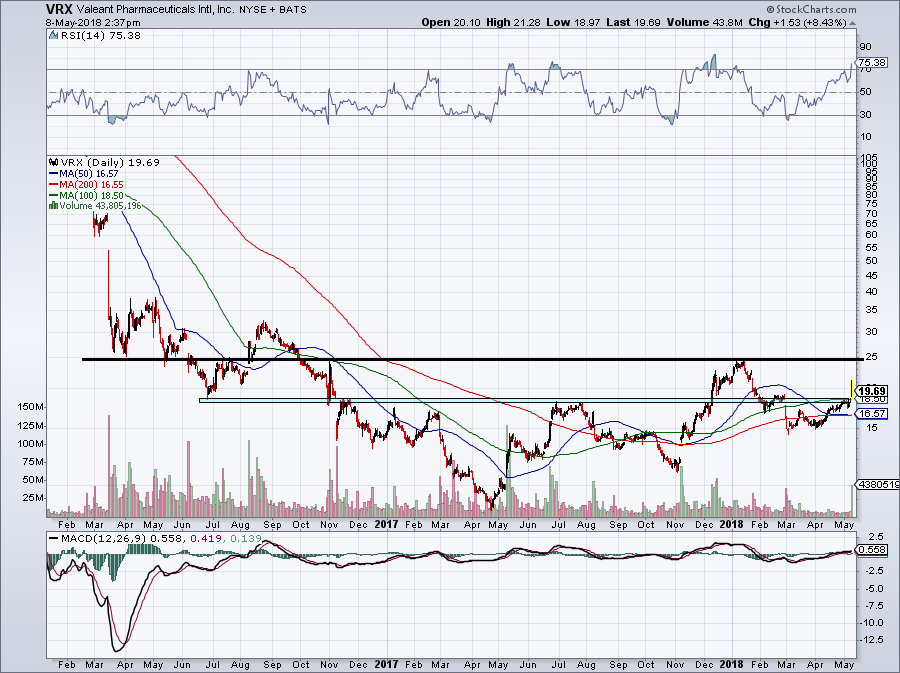 Valeant Pharmaceuticals Intl Inc (NYSE:VRX) — or should we say Bausch Health Companies — is up 8% after reporting earnings and after it announced a name change. Does that make its stock a buy?
I missed VRX on the way up, but it's fundamentals kept me away from a big-time loser once reality set in. It left VRX in a precarious debt situation that made the numbers from Tesla Inc (NASDAQ:TSLA) look good — and that's saying something.
This $18-ish level (blue rectangle) has been pivotal for VRX stock in the past. Now gapping over it, bulls may have some momentum. Purely from a technical standpoint, there could be room for VRX stock to run to $25. I personally will not touch VRX, but that's purely from a personal standpoint.
Top Stock Trades for Today #4: Hertz (HTZ)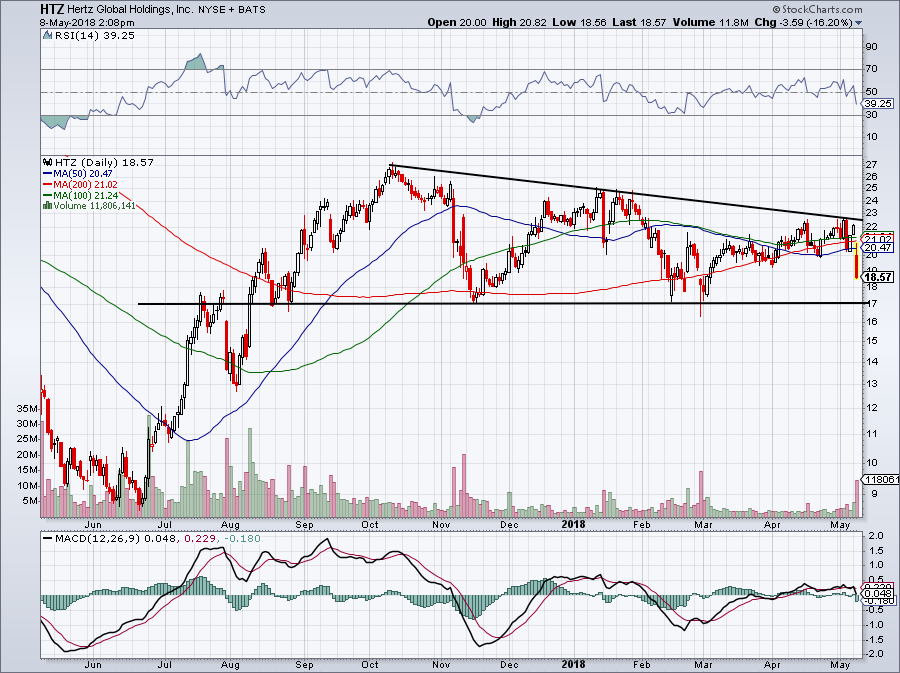 ---
— RELATED—
New Book Reveals President Reagan's Secret
" 702(j) Retirement income Plan"
This Strategy Is Not Right For Everyone,
But If It's Right For You, You Could Retire With
an Extra $2,194 Per Month, or More – Tax-Free
---
Source: finance.yahoo.com | Original Link