Economists expect December's employment report to show a solid pace of job growth and steady wage gains, but some economists say the report could contain an upside surprise or two.
One reason may be the increasing willingness of employers to raise wages as they struggle to retain and attract talent in a tight job market.
Taco Bell, for example, on Thursday said it plans to pay managers $100,000 a year at some company-owned locations, starting later this year. General managers at company-owned Taco Bell stores now make between $50,000 and $80,000, according to news wires.
The government's jobs report, released at 8:30 a.m. ET Friday, is expected to show employers added a total 160,000 payrolls in December, while wage growth is expected to have held steady at 3.1% year over year, according to Dow Jones. The unemployment rate is expected to remain unchanged at 3.5%.
But economists say both the headline payroll number and wage growth could be above the consensus forecast because the economy has been a bit stronger than expected. It continues to add jobs and workers are hard to find. Wages for non-supervisory employees have been outpacing pay for managers, gaining 3.7% in November, while overall wages rose just 3.1%.
---
— RECOMMENDED —
WARNING!!!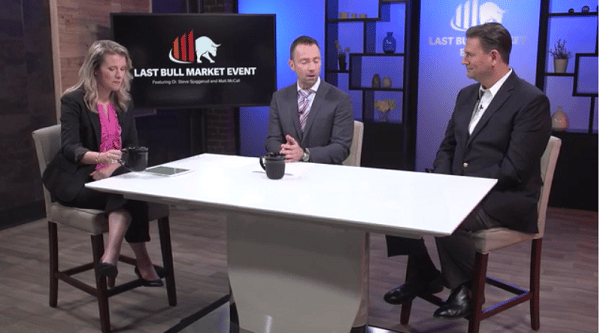 Here's how to prepare for the biggest stock market event of the decade.
Including the name and ticker of the best-performing stock of 2020.
---
"I think it's going to be better than the market is looking for. It's going to continue to show the consumer can keep the economy on an even keel, even if businesses are worried about a downturn," said Drew Matus, chief market strategist at MetLife Investment Management. "Until businesses start firing people, I don't see growth in the U.S. faltering much ... We're still at the stage where we're hiring a lot of people Even if it's as forecast, that's still a lot of people."
Matus said economists may have underestimated job creation because of the impact of the General Motors strike on the jobs data in the last two months. GM workers came off the payrolls in October, and were added back in November for a strong nonfarm payroll gain of 266,000.
"People want to be a little more negative on this economy than they should be," he said.
Joseph Song, U.S. economist at BofA Global Research, said he is looking for a lower than consensus 150,000 nonfarm payrolls, but he said wage growth could be stronger than expected.
"We're looking for 3.1% year over year. I think there's some risks it's higher. I think what you're seeing is the low skill workers are seeing better wage gains. That's partly due to the tight labor market and I think that will continue," Song said.
Non-supervisory vs supervisor wage gains
Source: BofA Global Research
BofA economists, in a note late last year, said the slower pace of gains in supervisory wages could have to do with corporate confidence, impacted by trade friction. In November, supervisors' wages rose by just 1.7%, compared to the 3.7% wage gain for non supervisory and production employees. The economists noted an improving trade picture could help wage gains.
Song said non-supervisors will continue to see more gains, including another round of minimum wage gains that is expected to take effect. Although wages are rising, economists said it would take awhile for those gains to impact inflation. They also point out that the Federal Reserve indicated a willingness to tolerate a higher level of inflation if it did reach its 2% target.
---
— RECOMMENDED —
Why Is John Boehner So Darn Rich?
His current net worth is estimated at $5 million.
But he could soon become even richer. All thanks to a massive bet he's made in the legal cannabis market.
---
The pace of job growth is also not expected to be a factor for Fed policy, after the Fed signaled it would hold policy steady.
"It doesn't really change anything for the Fed. If you get a 100,000, 150,000 or 250,000, the Fed is going to stay on hold, or if you do get wage pressures and that translates to price pressures, that could be a catalyst for the Fed," said Song.
Joseph LaVorgna, Natixis economist Americas, said he does expect a better pace of wage growth but expects it later in the year with a pickup in manufacturing and productivity.
"I don't necessarily think the number is going to accelerate in December. We're getting wage increases. I think we're going to see faster wages this year," he said. LaVorgna said it's likely job participation will increase with rising wages.
"The fact that companies are paying up is probably going to induce some people back into the workforce," he said, noting that if the Taco Bell managers are getting raises so would assistant managers and others.
LaVorgna said he expects 170,000 jobs were created in December.
Source: cnbc.com | Original Link