At the surface, the much anticipated meeting between U.S. President Donald Trump and North Korean leader Kim Jong Un seemed to be a big nothing for markets.
But behind the scenes, traders were scurrying to move money amid the geopolitical noise, sending flows to some Asia exchange-traded funds. Volumes for U.S.-listed ETFs on Monday were almost 20 percent below their daily average over the past 20 days, according to an analysis by Josh Lukeman of Credit Suisse Group AG.
---
— TRENDING NOW—
FREE STOCK TRADING WEBINAR
Experienced Biotech stock investor, Kyle Dennis, will be showing you 3 easy-to-follow steps that you're going to want in your playbook & he's got the numbers to prove it!
---
The iShares MSCI All Country Asia ex-Japan ETF, or AAXJ, absorbed trades worth $195 million, the most for a single day since April and more than double the average daily turnover in the past year. Most of the fund's investments are in China, but almost 17 percent of its exposure is in South Korea, with Samsung Electronics Co. its third-largest position.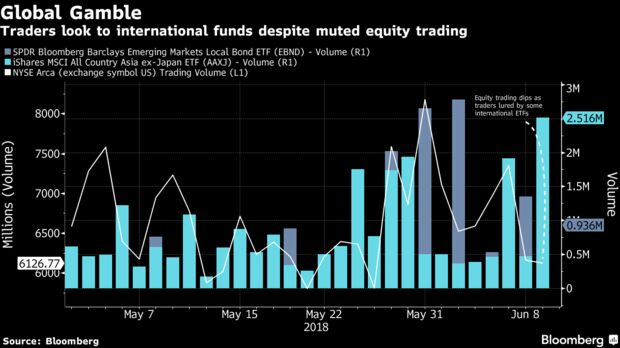 Fixed-income ETFs saw action as well, as investors traded close to $30 million of the SPDR Bloomberg Barclays Emerging Markets Local Bond ETF, or EBND, on both Monday and Friday. That's about five times the daily average volume for the fund in the past year. EBND's largest holding is South Korean sovereign debt.
---
— TRENDING NOW—
$330,000 per year trading part-time?
---
Silver Spoons
Funds tied to silver also saw an uptick in volume on Monday, as the price of the metal rose nearly 1 percent. The iShares Silver Trust, or SLV, had more than 10 million shares trade, the most in about a month and close to double the 15-day moving average over the past year. Similarly, investors moved more than $7 million worth of the Global X Silver Miners ETF, or SIL, about twice its average daily turnover this year.
"Tensions in the G7 could be putting pressure on the dollar and that could have lent support to the silver market," said Phil Streible, a senior market strategist at RJO Futures.
About 40 percent of the mining companies held by SIL are in Canada, 15.6 percent in Mexico, 12.7 percent in Russia and 11.7 percent in South Korea.
Source: bloomberg.com | Original Link