Before I give you my watchlist for today, I'd like to take a little time to talk about the recent headlines we're receiving.
---
— RECOMMENDED —
Breaking: Since Jan 21, Jeff Williams is up a whopping 1,739%, turning $500 into $9,200.
What If What You're Being Told About Penny Stocks, Are Cold Hard Lies – Robbing You of the Financial Freedom You Deserve.
Brand New Guide Reveals The Hidden Truth In How Tap Into This Explosive Market
---
With the social distancing timeline extended to the end of April…
This is the time the "closed for business" signs and job losses will begin to impact people's lives in a more serious way.
It's time to pay rent, the mortgage is due, bills are piling up…funds are being stretched to the limits.
How are people and businesses going to navigate this challenging time?
One thing is for sure…. get ready for more volatility as the market dissects the next wave of information.
And the best way to prepare as a trader…
Putting Together A Watchlist.
Having a watchlist allows me to stay ahead of the competition and go into the day ready to roll.
I have trades lined up so I am not running in circles when the market opens.
My watchlist also includes a detailed plan – outlining how I intend to take the trade, and where I see potential profit targets. Get access to the members' video watchlist here.
If you aren't a member yet and simply prefer reading about my victories, and how I've been able to take my latest small account and juice it up by over 1700% since Jan. 21 – then you're in for a treat today.
I am going to give you a peek at a few of the stocks on my current watchlist – ones that I believe could provide us with more monster gains this week.
Stocks to Watch Right Now
Let's go gang… As you know I don't trade without a plan. And a big part of my plan is to go into the day with a watchlist… a group of stocks that are ready to go.
Well today I've scouted out some great stocks to get the week started off right. And below I will show you the levels I am watching on each of these.
Read on to learn about each: GRPN, NLS, CYDY, NOVN
Groupon, Inc. (GRPN) 
The chart is looking like a potential V bottom formed. If GRPN continues its higher highs and higher lows, 1.91 next chart high.
It also happens to be the level of the gap down and the 50 day is currently at that price, so expect some resistance there.
After that, the 200 day is sitting at 2.64 and a gap-fill to about 3.
I will be watching for support at the 20 day which is currently .90.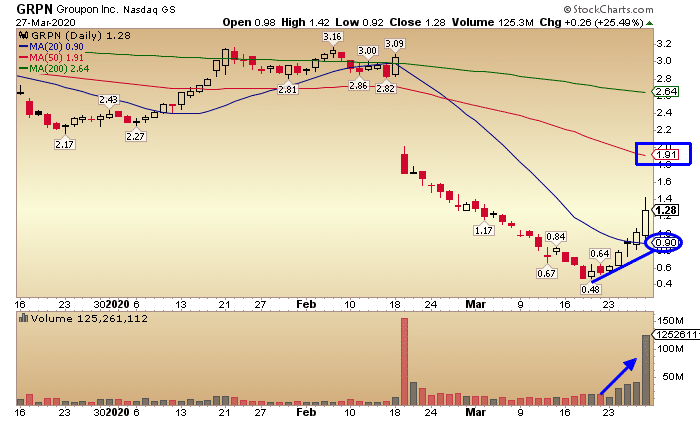 Nautilus Group, Inc. (NLS)
Nautilus makes exercise equipment with well-known brands like Nautilus, Bowflex, Octane Fitness, Schwinn, and Universal brands they are a big name in the direct to consumer segment.
And with gyms closed and self-isolation in full gear this could have some potential as coronavirus play.
Nautilus started on my watchlist last week when it closed above the 200-day.
With a nice move up since then, the next chart highs are 3.26 and 3.45.
I'll be watching how it trades around 50day MA resistance at 2.79 and will look for support at the 20day MA on any pullback.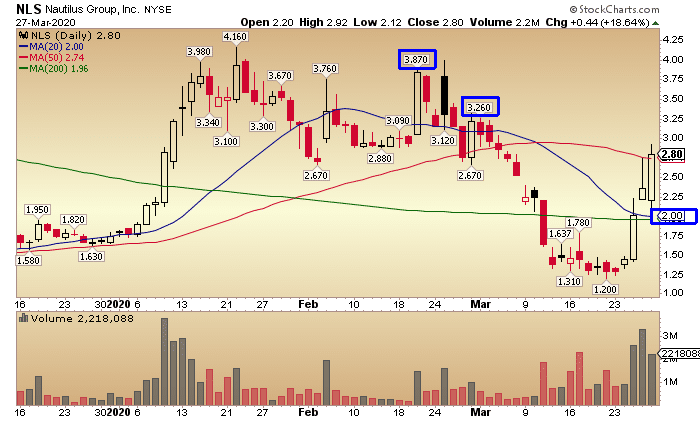 CytoDyn, Inc. (CYDY)
Over the past week, under FDA approval, the drug Leronlimab was tested in patients with serious respiratory conditions with Covid-19 in NYC.
The idea behind the drug is to mitigate the things that make respiratory congestion so dangerous. It's not a cure per se, it's a therapy drug helping recovery to become a reality.
As of March 27, they were up to 7 patients being tested and the intubation tubes in two of the patients were able to be removed.
This is an interesting one to watch as the testing is just getting started but has shown some promising results so far.
With a big volume pop on Friday, most likely related to this news, the next chart high is 1.65. I will be watching for support at 1.20 as a break out point… but also down to 1.11 where the 50day MA is sitting.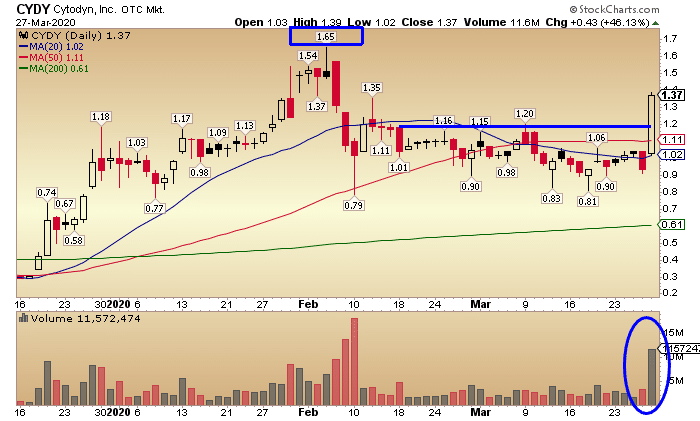 Novan, Inc. (NOVN)
Novan just recently launched a secondary offering to raise cash for ongoing research and development. That's not always a great thing as it shows their lack of funds.
With Novan… they too have mentioned COVID-19. But when I look at it closer, it could just be a move to ride the hype. I don't know for sure, but clearly it's not as tangible as CYDY.
So this would obviously be one to that is more about a quick chart play if it sets up.
The chart is interesting though… I like this on a 50 MA line break at .49 for a possible gap filler to .56, and then watch the previous high at $.77.
With a nice base at the 20 MA line, I would like to see that hold.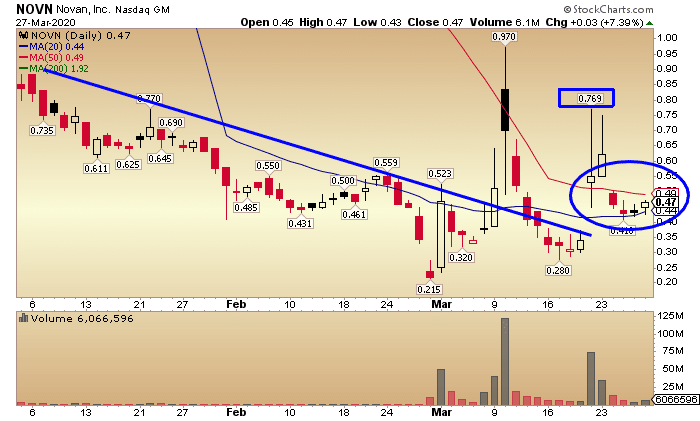 These stocks will give us a good start to the week, but they aren't the only ones I'm watching…
I actually provide a daily video watchlist to my members each night to prepare them for the next day.
If you want a deeper insight into what I see and how I trade them… Join me and get access to my live chat room where I walk members through my trades…
As a former teacher, I have the skill set to break down the complicated or unknown and make sense of it to even the most novice trader… and my members agree…
Get ready for the best stock trading education out there…