In all my years of trading, I have never seen anything like this past week.
The best way to survive this market— Is by carefully picking your trades.
That's why I stepped back completely last week. Instead, I focused on the Raging Bull Summit, only dipping my toes in the water when I got back home on Thursday.
That's how I managed to snap up over $10,000 in NFLX while the market crashed.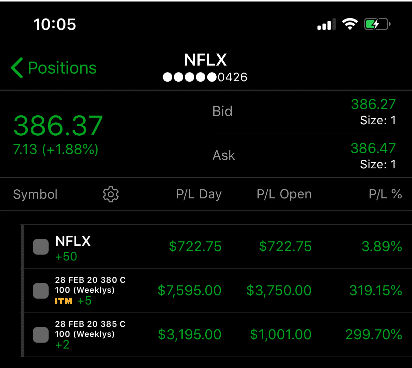 An amazing Weekly Money Multiplier win among the turmoil!
I don't trade to the short side very often. It's not my cup of tea, and my trading journal proves that fact. Instead, I focus on the TPS setups that continue to work for me.
Everyone hears about someone that cashed in huge with puts on one stock or another. If you think FOMO is bad on the upside, amp that up to 100x on the downside.
So do you pick the "right" stocks and options to trade during this period of extreme volatility?
I've put together a checklist of the criteria I run down before I place a trade. Check it out, and I'm certain, it will help you make better decisions—even in this tough market.
Know your trading plan
Over the years, my trading journal helped me to develop my TPS strategy. I tried a lot of different angles and indicators, always searching for the key to make my millions. In the end, I found my mojo.
Here's what I discovered – my strategy works poorly betting against stocks. Still to this day, my trading log shows that I barely make money with my short plays. For me, this is just a fact of life.
Now, that doesn't mean I don't know how to read the market. I look at lots of market internals including the put/call ratio and the Tick chart. That's a lot the reason I cut all of my positions last Friday.
As a swing trader, I don't mind starting from scratch. It isn't necessary for me to be involved in the market all the time. Trading is not the same thing as investing. I want to play my strategy over and over, regardless of what the broader market does.
But, I want to make sure that the market environment is set up for me to win. And that isn't when stocks are crashing.
Looking for bottoms
None of us know with 100% certainty where the bottom is before it happens. There are a lot of spots that look like they provide support. All these provide are potential areas. That means the market can choose to blow through these without a second thought.
That's why I look for three things before I start to go back to normal trading:
Key support level – Nearly all bottoms come at defined places, whether it's previous consolidation, a Fibonacci level, or other means of identifying these areas.
Reversal signal – I prefer to wait until the market tells me it wants to reverse. I've never been good at getting the exact timing right. So, I wait until I have some sign to work with.
Extreme VIX levels – As you know, the VIX measures option demand on the S&P 500, also known as implied volatility. This mean-reverting index rises when option demand increases on the S&P 500, which often coincides with drops in the markets.
Pick the right stocks
The number one thing I look for in a trade is the right stock. If you watch me trade, you'll notice that I tend to stick with momentum stocks, as well as those that aren't in most major ETFs. There's a good reason for that.
When you pick stocks that tend to do their own thing, it reduces the influence of the market on the chart's price action. That makes the setups a bit more 'pure.'
Since I like to play bullish charts, I also like to look for relative strength. That means when the rest of the market is down, that particular stock likes to trade higher. In the case of Netflix, that not only meant a run higher through last week from the open but a close higher than the open.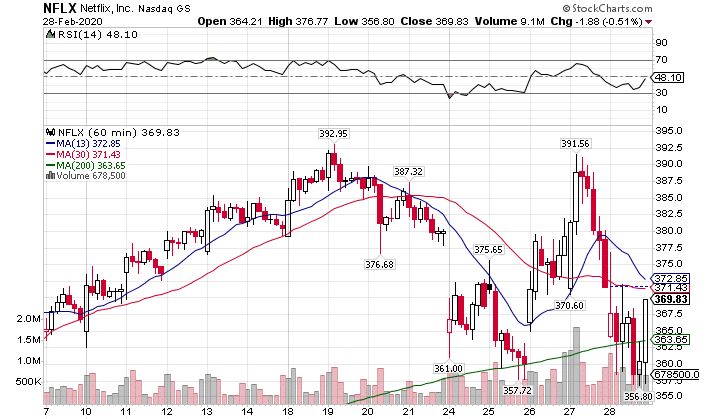 NFLX Hourly Chart
This chart acted way better than the SPY or QQQ last week. In fact, it actually had a couple of days where it gained on the day!
So, when I talk about stock selection, that means finding the ones that support your trading strategy. I could have easily found none and I would have been fine with that. Sometimes you need to be ok with stepping away from the market.
Identifying your sweet spot
Knowing when to step back is an important skill. It's equally as valuable as knowing when to push your edge. The easiest way to find that is through reviewing your trades.
In my upcoming webinar, I identify the steps I took to create my strategy. You can follow these same keys to success..
Source: Weeklymoneymultiplier.com | Original Link