Stocks made new record highs again today.
The major indices opened at record levels after news that U.S. and China had agreed to remove existing tariffs.
---
— RECOMMENDED —
WARNING!!!
From Record Highs to Crushing Losses…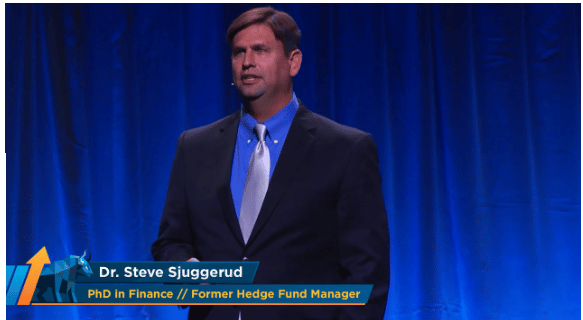 "A new panic is about to grip the markets – unlike anything we've seen in 20 years."
Former Hedge Fund Trader Explains Why
---
There was a surprise drop late in the afternoon after reports that there is some internal opposition inside the White House over the tariff rollbacks.
But after making session lows with 30 minutes left in the day, stocks moved higher into the close.
The DOW, S&P, and NASDAQ all made new record highs today. But it was the DOW leading the way with a 0.7% gain.
Here's where the major indices ended the day:
The S&P finished with a 0.3% gain. Up 8 points, the S&P ended at 3,085.
The DOW ended

higher by 0.7%

. Adding 182 points, the DOW closed at 27,675.
The NASDAQ was

up 0.3%

. With a 24 point gain, the NASDAQ finished at 8,411.
Crude Oil (CL) bounced back after yesterday's drop. Up 1.4%, CL ended at $57.11 a barrel.
With today's trade news, the 10-year yield saw its biggest move since President Trump was elected.
And bank stocks rallied on the move in interest rates.
Bank of America (BAC) finished higher by 1.3% and Citigroup (C) rallied 1.9%.
Qualcomm (QCOM) ended the day with a 6.3% gain after reporting better than expected earnings yesterday.
But online travel companies had a rough day.
Expedia Group (EXPE) lost 27.4% after worse than expected earnings. And TripAdvisor (TRIP) dropped 22.4%.
In after-hours trading, Disney (DIS) jumped more than 5.0% after an earnings beat. Disney will launch its new Disney+ streaming service on Tuesday.
Here is the economic calendar for the week:
Real Time Economic Calendar provided by Investing.com.
Source: RockwellTrading by Markus Heitkoetter | Original Link