Stocks were hammered today!
After a slightly lower open, the major indices were essentially in a freefall from lunch all the way until the close.
Down more than 3.0% today, the S&P closed below its 200-day moving average, a key technical level some traders use to distinguish between bullish and bearish markets.
Why the drop?
---
— RECOMMENDED —
Get Out of Cash Now
Former hedge fund manager with a long track record of accurate predictions says a huge shift is coming towards the U.S. stock market in as little as 6 months that will determine who gets wealthy in America and who gets left behind.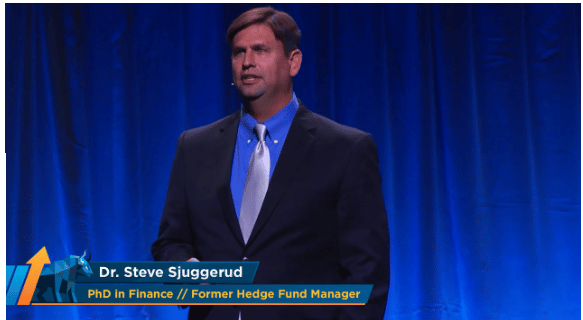 ---
There were no notable economic reports. Instead, it was once again all about trade.
A day after traders were celebrating the positive outcome of a meeting between the U.S. and China, President Trump tweets that he is a "Tariff Man". A Washington Post report claims that China is confused about the comments from Trump and that they have NOT acknowledged a 90-day deadline for talks.
---
— RECOMMENDED —
MENSA considers him a genius!
Find out how this former landscaper makes millions trading the trickiest market
---
Here's where the major indices ended the day:
The S&P finished with a 3.2% loss. Down 90 points, the S&P ended at 2,700.
The DOW ended lower by 3.1%. Dropping 799 points, the DOW closed at 25,027.
The NASDAQ was down 3.8%. With a 283 point loss, the NASDAQ finished at 7,158.
Bitcoin finished higher by 0.9%. Up $35, Bitcoin ended at $3,865.
---
— RECOMMENDED —
FREE PENNY STOCKS WEBINAR
How You Can Get BIG Gains from a Small Account… FAST!
---
Crude Oil (CL) finished higher for the 2nd day in a row. With a 0.4% gain, CL finished at $53.17 a barrel.
Autozone (AZO) stood out in a sea of red. The stock finished higher by 6.8% after better than expected earnings. In other earnings news, Dollar General (DG) suffered a 6.8% loss after earnings that were worse than expected.
U.S. stock markets will be closed tomorrow to honor the passing of former President George H.W. Bush.
---
— RECOMMENDED —
Three Simple Trend Lines
Tranquil Trading: "All You Need is 3 Simple Trend Lines"
---
Source: RockwellTrading by Markus Heitkoetter | Original Link