Stocks rocketed higher after positive trade news from the weekend.
---
— RECOMMENDED —
Get Out of Cash Now
Former hedge fund manager with a long track record of accurate predictions says a huge shift is coming towards the U.S. stock market in as little as 6 months that will determine who gets wealthy in America and who gets left behind.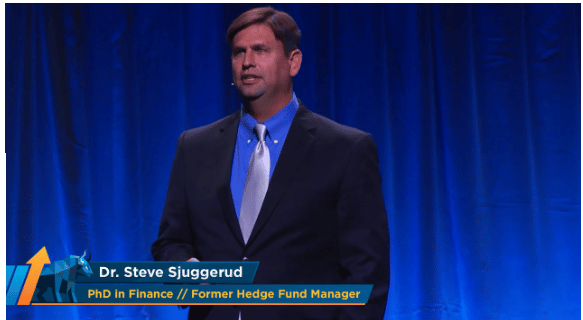 ---
On Saturday, President Trump and President Xi of China agreed to put the escalating trade war on hold. The two agreed to suspend tariff increases for 90 days so they can focus on settling trade disagreements.
---
— RECOMMENDED —
MENSA considers him a genius!
Find out how this former landscaper makes millions trading the trickiest market
---
Stocks opened the day with nice gains. There was a pullback after the open and then the major indices traded sideways for most of the day. Although stocks finished off of highs day, the major indices were still up nicely with gains of 1.0%+.
---
— RECOMMENDED —
Options trading has never been so easy!
Learn How 3 Green Lights Trigger Profit Eruption
BONUS: Stay until the end of this training and receive Jeff's Course: Become an Option Pro in 30 Days.
---
Here's where the major indices ended the day:
The S&P finished with a 1.1% gain. Up 30 points, the S&P ended at 2,790.
The DOW ended higher by 1.1%. Adding 288 points, the DOW closed at 25,826.
The NASDAQ was up 1.5%. With a 111 point gain, the NASDAQ finished at 7,442.
Bitcoin finished lower by 1.7%. Down $65, Bitcoin ended at $3,830.
---
— RECOMMENDED —
FREE PENNY STOCKS WEBINAR
How You Can Get BIG Gains from a Small Account… FAST!
---
Crude Oil (CL) had a great start to the week after a big move overnight. With a 4.1% gain, CL finished at $53.00 a barrel.
Advanced Micro (AMD) led the S&P 500 with an 11.3% gain today. Big names like Amazon (AMZN) and Apple (AAPL) were also up nicely, with 4.9% and 3.5% gains respectively.
While most stocks in the DOW were higher, Verizon (VZN) was the worst performer in the index with a 3.6% loss. The drop came after a downgrade by JP Morgan.
---
— RECOMMENDED —
Three Simple Trend Lines
Tranquil Trading: "All You Need is 3 Simple Trend Lines"
---
It was a strong day overall. But THIS isn't a good sign…
Today the yield of the 5-year treasury note dipped below the 3-year note for the first time since 2007. This means that investors are paid more for 3-year notes than the longer 5-year notes. Although this doesn't happen too often, traders really keep an eye on an inversion between the 2-year and 10-year notes, which has occurred every time before all U.S. recessions since WWII.
Source: RockwellTrading by Markus Heitkoetter | Original Link