Stocks opened slightly higher on Monday ahead of a big week for earnings. The gains came even as expectations of aggressive policy easing from the Federal Reserve dampen.
The Dow Jones Industrial Average traded 31 points higher, or 0.1%. The S&P 500 gained 0.2% while the Nasdaq Composite advanced 0.3%.
More than a quarter of the S&P 500 reports earnings this week including so-called FANG names Facebook, Alphabet and Amazon, along with blue chips like McDonald's and Boeing. Facebook, Amazon and Alphabet all traded higher on Monday and are also set to report quarterly numbers this week.
---
— RECOMMENDED —
Get Out of Cash Now
Former hedge fund manager with a long track record of accurate predictions says a huge shift is coming towards the U.S. stock market in as little as 6 months that will determine who gets wealthy in America and who gets left behind.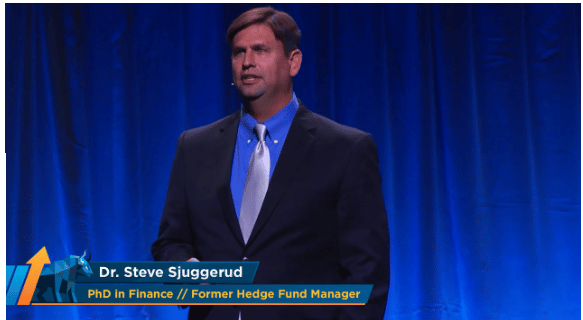 ---
So far, more than 15% of the S&P 500 has posted quarterly results. Of those companies, 78.5% have topped analyst expectations for earnings while 67% have reported better-than-expected quarterly revenues, according to FactSet data.
"Given that companies tend to outperform expectations, we said that Q2 would actually show positive earnings growth of 1.0%. Nothing to write home about, but enough to end the earnings recession chatter," said Nicholas Colas, co-founder of DataTrek Research, in a note. "A strong dollar is the biggest headwind to earnings and profit margins – not the effect of the US-China trade war – and this problem only gets worse in Q3 2019."
Stocks struggled last week, posting their biggest weekly decline since May as investors digested the first batch of corporate earnings reports and signals on potential Fed policy moves.
Comments from New York Fed President John Williams initially led investors to price in a greater possibility of the central bank cutting rates by 50 basis points. In a speech on Thursday, Williams said it is better for central banks to take
preventative measures than to wait for disaster to unfold. "
However, the New York Fed later tried to walk back Williams' remarks, stating: "This was an academic speech on 20 years of research. It was not about potential policy actions at the upcoming FOMC meeting."
According to the CME Group's FedWatch tool, market expectations for a 25 basis-point rate cut later this month are at 75.5%. Meanwhile, traders are also pricing in a 24.5% chance of a 50 basis-point cut.
President Donald Trump, who has been critical of the Fed's decision to hike four times last year, suggested on Monday the Fed should cut "deeper" at its upcoming meeting July 30-31.
Source: cnbc.com | Original Link