Last week was the worst week for stocks since the financial crisis of 2008. And though they saw a bounce on Monday, the Dow Jones (-6.4%), S&P 500 (-5%), and Nasdaq (-.02%) are all down on the year.
In times like these, while the markets lose their heads over global pandemic fears, it's important to remember the foundations to building wealth.
In today's essay, Teeka shares three ways you can increase your returns… and insulate your portfolio against the kind of volatility that makes average investors lose sleep at night.
---
By Teeka Tiwari, editor,  Palm Beach Confidential
I've been in the investing game for three decades now… And the biggest secret I've uncovered to building wealth – and keeping it – is diversification.
For years, I've witnessed people on Wall Street make untold millions using alternative strategies – things regular investors know nothing about.
You see, various studies show that over 90% of a portfolio's long-term returns are driven by asset allocation. Something that's been a bedrock of our investing strategy from day one…
Since we launched The Palm Beach Letter on April 13, 2011, to the end of 2019, our recommendations have averaged annual returns of 104.7%. By comparison, the S&P 500's average annual return during the same time frame was just 13.2%.
But that's all in the rear-view mirror now. And as last week's sell-off due to coronavirus fears showed, the future is suspect.
That's why we recently updated our asset allocation model at PBRG. I want to prepare us for anything the market throws our way.
Now, I believe this bull market still has plenty of runway in front of it. In fact, I see it going on for at least another 10 years.
And to get the most out of it, you need to diversify the asset classes in your portfolio. Not only will this hand you better returns… but greater diversification also results in lower risk and better protection for your money.
So today, I'll share three alternative assets we're bullish on at PBRG – along with why every investor should consider adding them to their portfolio…
---
— RECOMMENDED —
Crypto Millionaire: "I Need You To See THIS Before March 18"
Prepare for takeoff! On Wednesday, March 18, YOU get to fly private with Teeka Tiwari, the most trusted person in cryptocurrency. Your destination: The hidden epicenter of a millionaire-making phenomenon coming to crypto in 2020. It only happens once every four years. And it's 100% guaranteed to occur.
The last time it struck (in 2016), you could've turned $500 into $5 million… in 10 months after this phenomenon occurred. Spots for Teeka's historic online event will fill fast. Register for free and grab your digital "boarding pass" while you still can.
---
Cryptocurrencies
I've always said everyone needs to add some crypto exposure to their portfolios.
You see, cryptos are uncorrelated to the markets. In other words, their movements aren't tied to the stock market or overall business cycles…
Correlated assets move together in price direction. For example, healthcare stocks generally move in the same direction as each other. They're usually affected by the same events.
And inversely correlated assets move in opposite price directions. For example, when the U.S. dollar goes down, gold prices usually go up.
But uncorrelated assets aren't affected by outside forces. And Wall Street is starting to realize that the price of bitcoin is unrelated to the prices of gold, stocks, bonds, or commodities.
Plus, a study last year by Bitwise Asset Management concluded that allocating just 1–10% of your portfolio to bitcoin gives better risk-adjusted returns than holding just stocks and bonds.
So this is Wall Street's "Holy Grail" – an uncorrelated asset performing well under diverse market conditions… and maintaining its ability to rise at the same time.
---
— RECOMMENDED —
Judge Pirro's Latest Interview Is Going VIRAL
One of the top news anchors in America just went on-camera to expose a huge story. When word spreads about what she's uncovered — it could trigger an equally huge move in the stock market.
If you haven't seen her interview… which details a sector of the market that could soar 37x in the months ahead, click this link to watch it now.
---
Collectibles
Like cryptos, collectibles are also uncorrelated assets. They're hard assets that maintain their value. And that's why millionaires and celebrities have been enjoying and profiting from them for years.
Look at vintage cars…
From 2007 to 2017, the classic car component of the Knight Frank Luxury Investment Index returned 334%. The S&P 500 gained just 82% during that time.
Even last year – when almost all asset classes lost money – the HAGI Top Index for rare classic cars was up 2.5%.
Classic cars have risen in value for the last 30 years. And during the 2008 financial crisis, the smart money flowed into this safe-haven asset.
With volatility in the stock market hitting 2008-like levels again, it's important to diversify your assets. And investing in collectibles – like cars, art, and even baseball cards – is a great way to do so. It's how some of the richest people on the planet have protected and grown their wealth…
Private Placements
According to McKinsey & Company, private markets have over $5 trillion in assets under management. And for years, Wall Street and venture capitalists (VCs) have walled off this ocean of capital from ordinary investors.
It's no wonder why…
As you can see in the chart below, the average VC fund has crushed the returns of public markets over the long term using this strategy…
For decades, 99% of Americans have been locked out of this exclusive market. You needed to have a net worth of at least $1 million or be connected to insiders.
But thanks to some recent regulatory changes, you can now invest in private companies before they become public.
They're called Regulation A+ offerings. And they're open to the general public – not just accredited investors. In some cases, you can buy into these private deals with just a few hundred dollars.
These "sweetheart deals" being available to the general public now is a real game changer.
Main Street can finally take advantage of the deals Wall Street fat cats and West Coast VCs have used for decades to generate incredible wealth outside the stock market.
---
— RECOMMENDED —
The 5G Master Key – The Biggest Stock Market Story For 2020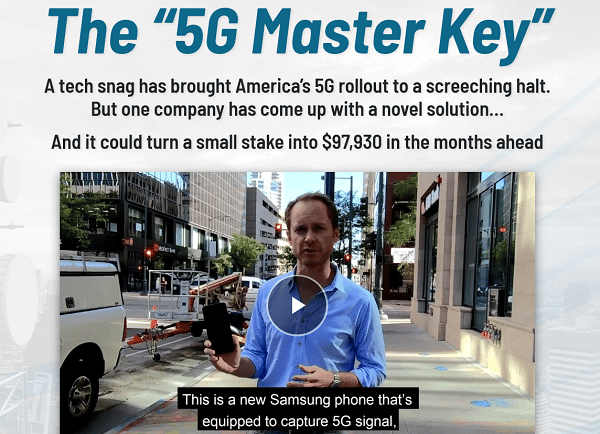 The 5G Master Key Presentation – Check out this research briefing now
---
Diversification Is Your Shield
Adding cryptos, collectibles, and private placements to your portfolio will generate long-term outperformance… and help you lower your overall risk by putting money outside the volatile markets. Here are some easy ways to get started today:
The first step to gaining exposure to cryptos is bitcoin. It's the reserve currency of the crypto space. And despite its recent pullback, it's still up 19% year-to-date.
If you want to explore private equity investing, consider crowdfunding platforms like SeedInvest and MicroVentures. They list dozens of startup companies raising money from the general public. In some cases, you can get started with as little as $100.
There are similar platforms for investing in collectibles, too.
And remember, always do your homework before making any investment.
---
As I mentioned above, the key to building wealth is diversifying your assets. But no asset on the planet can radically change your life like cryptos can.
You see, a rare phenomenon is about to hit the crypto space in May 2020. The last time it happened was in 2016… and $500 in five tiny cryptos during this occasion could have turned into $5 million.
The good news is I've found The Final Five I believe will do the same in 2020. And there's still time for you to get in. To prove it, I'm hosting a historic online event.
On March 18, you get to fly private with me and visit the epicenter of this millionaire-making phenomenon. During the last leg of my world-tour, I'll release my Final Five buy-list for 2020. And I'm inviting you to hop "on board" my private jet to watch it.
You can get your free "boarding pass" here. But this online event is expected to reach max capacity. So register while you still can.