U.S. stock index futures traded higher on Friday as investors awaited the release of the government's latest jobs report.
Around 7 a.m. ET, Dow Jones Industrial Average futures were up 75 points, indicating a gain of more than 70 points at the open. S&P 500 and Nasdaq 100 futures also rose.
---
— RECOMMENDED —
Will 2020 be the year this nearly 11-year-old bull market finally crashes?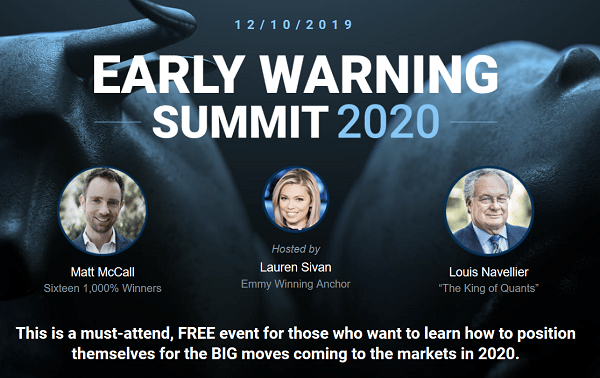 Matt McCall and Louis Navellier Will Share the Stage and Reveal the Massive Market Events That Will Shape 2020 And What They Recommend You Should Be Doing NOW With Your Money.
---
The Labor Department is scheduled to release U.S. employment data at 8:30 a.m. ET. Economists polled by Dow Jones are expecting 187,000 jobs added in November — one of the highest estimates this year ahead of a jobs report.
The data is expected to reflect a temporary boost from striking General Motors autoworkers returning to work. Unemployment rate data and average hourly wages for November will both be released at the same time.
Other data slated for release Friday includes consumer sentiment for December, wholesale trade figures for October and the latest reading of consumer credit will all follow slightly later in the session.
Market focus is largely attuned to global trade developments, following an upbeat tone from President Donald Trump.
On Thursday, Trump said the world's two largest economies were inching closer to a trade deal. His comments come as investors continue to closely monitor the prospect of a so-called phase one trade agreement, with less than 10 days to go before Washington is poised to impose even more tariffs on Chinese goods. Tariffs on another $156 billion in Chinese goods are set to go into effect on Dec. 15.
Source: cnbc.com | Original Link