Most people familiar with the blockchain know it as the underlying technology of cryptocurrencies. That's true… The blockchain's main use has been to record crypto transactions. But that's not the only thing it's capable of.
It's a groundbreaking technology that we'll eventually use to record any type of transaction. That's why the World Economic Forum has projected that blockchain will store 10% of the world's GDP by 2027. That's $8.6 trillion.
Based on those projections, we could see block­chain technology values soar 295,762% over the next seven years alone – up from just $2.9 billion.
Here's why that's important…
During the internet age, companies like Facebook, Amazon, Apple, Netflix and Google made their early investors millionaires.
But the next wave of life-changing investments won't come from the stock market… it'll come from the crypto market.
And with a rare phenomenon that strikes crypto every four years just around the corner… now's the time to prepare yourself.
So Teeka Tiwari is launching a whole educational series on blockchain before this event arrives in May (more on the rare event in tomorrow's issue).
In today's must-read essay, Teeka explains why blockchain is so transformative…
---
By Teeka Tiwari, editor, Palm Beach Confidential
I call it "genesis" technology…
In 100 years from now, when people look back on the waves of innovation launching us to new levels of human advancement, they'll point to this technology at this moment in time and say, "That was the beginning"…
At the genesis.
So what technology am I referring to? The blockchain.
Now, you may know blockchain as the underlying technology behind bitcoin and other cryptos.
But if you're like most people, you might not be sure exactly why it matters… or why some believe it'll create more millionaires than any other technology before it.
The best way to explain it is with an example from another industry you're probably more familiar with: Real estate.
Take Trump Tower in Manhattan, for instance.
As you know, President Trump made the bulk of his fortune in real estate. And while Trump Tower is a symbol of his wealth, it also illustrates an important concept about innovation: "highest and best use."
---
— RECOMMENDED —
5 COINS TO $5 MILLION: THE FINAL FIVE
FREE Training From America's #1 Crypto Expert Reveals FIVE Tiny Cryptos That Could Turn $500 Into $5 Million
During the 2017 crypto boom, Teeka's top five recommendations (open and closed) could've turned every $500 into over $1 million. Now, in 2020, Teeka believes five tiny cryptos could make you as much as $5 million… starting with just $500 in each. It's all thanks to a rare phenomenon that strikes the crypto market only once every four years.
To prove it, Teeka's flying YOU to the hidden epicenter of this phenomenon on Wednesday, March 18, at 8:00 p.m. ET, so you can see for yourself: the phenomenon is real. And it has true millionaire-making potential. When he lands, he's officially releasing his new 5 coins to $5 million buy list for 2020.
Register for this historic online event while spots are still available.
Click here to register for free
---
You see, centuries ago, Trump Tower was just an empty piece of land. In 1845, you could've bought the lot it rests on for only $160.
Forty years later, William Astor – the millionaire behind the Waldorf Astoria Hotel – built a handful of private townhomes on the land.
So Astor transformed the land for a "higher and better use."
But was it the "best" use? Not quite. Fast-forward to 1929. That's when Stewart and Company bought the land from Astor.
It ran department stores. So it got rid of the townhomes and put up a 12-story building instead.
Eventually, Bonwit Teller, another retailer, took over. And things stayed the same for the next 50 years… until President Trump bought the property in 1979 for $15 million.
And what did the president do back then? Did he keep the 12 stories?
Of course not!
He replaced it with a fresh, 58-story tower that houses Gucci and Tiffany's on the first floor… 13 floors of corporate offices… and 260 million-dollar condos (which had attracted tenants like Johnny Carson, Liberace, and Michael Jackson).
---
— RECOMMENDED —
How to profit on Trump's second term
President Trump may be the most important thing to ever happen to the stock market…
And the profits of American investors.
But he's not tired of winning yet.
In fact, he has a shock in store for Americans. A secret plan that will add rocket fuel to the already hot tech market…
The Democrats don't see this coming
---
Today, Trump Tower is worth an estimated $340 million.
Just think about that. It went from a dirt lot… to a handful of townhomes… to this:
Here's why I'm sharing this with you…
Transformative Technology
Trump Tower is a simple way to illustrate why the blockchain will be so transformative.
You see, it'd be silly to write off Trump Tower as nothing more than an empty lot or a few fancy townhomes…
Just as it would've been crazy to look at AOL back in 1992 and say, "Yeah, that's the highest and best use of the internet."
Doing so would've made you miss the bigger picture – and life-changing gains as the internet took off.
That's why you should see bitcoin and cryptos as merely the first use – the genesis – of blockchain. It's the equivalent of the handful of townhomes back in the 1800s.
---
— RECOMMENDED —
The 5G Master Key – The Biggest Stock Market Story For 2020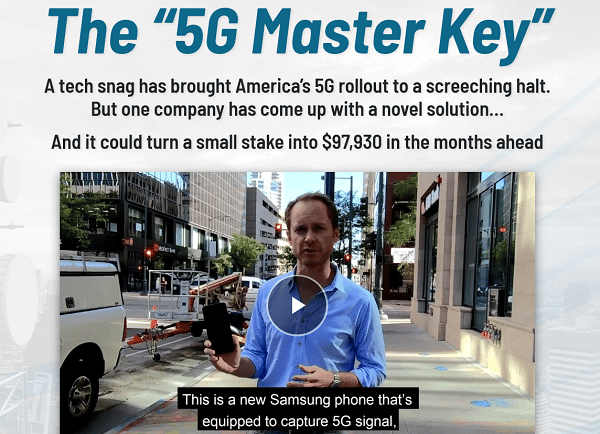 The 5G Master Key Presentation – Check out this research briefing now
---
Now, the World Economic Forum has projected that blockchain will store 10% of the world's GDP by 2027. That's $8.6 trillion – a 295,762% rise from today's $2.9 billion.
And by capturing just a small sliver of this explosive growth, it could be the equivalent of buying Microsoft in 1986… Amazon in 1997… or Apple back in 2003 (when I recommended it to my former retail brokerage clients).
That's why I've devoted the last four years of my life to learning more about blockchain than anyone else: To uncover the "genesis" of this trend.
The Next Highest and Best Uses
Many new blockchain applications are underway. For example, giant companies – like Amazon, Walmart, Microsoft, Pfizer, Comcast, Toyota, and more – are exploring blockchain technology. And 90% of the world's banks are testing blockchain applications.
According to Goldman Sachs, blockchain technology will add $37 billion to the U.S. economy by 2021. And 77% of financial companies expect to implement blockchain technology this year.
And stock exchanges in Australia, Switzerland, and Singapore are planning to launch blockchain technology by 2021.
Plus, Deutsche Bank released a study in late 2019 saying cryptos – which depend on blockchains – could replace cash by 2030.
That's why the World Economic Forum has projected that blockchain will store 10% of the world's GDP by 2027.
Meanwhile, global investment bank RBC Capital Markets estimates the blockchain ecosystem could be worth up to $10 trillion within the next 10 to 15 years.
Now is the time to position yourself in this trend. The simplest way is to take a small stake in bitcoin and ether – the world's two largest blockchains.
Friends, I want you to know we are at the early stages of blockchain adoption… The opportunity to make a fortune from the next Apple, Google, Facebook, or Amazon won't come from traditional tech. It will come from the blockchain.
Unfortunately, you've likely never heard of many of these up-and-comers. And that might make you hesitant to enter the crypto markets. If this describes you, I want you to know I understand.
I've devoted the last five years of my life to understanding this market… And if you'll let me, I'd like to help guide you through it.
I'd like to educate you about these companies in this space. I want to show you the problems they're solving.
Most importantly, I want to help you make the decision to start adding some of them to your investment portfolio. Because I believe these projects can explode your wealth to a level you have never seen before.
---
— RECOMMENDED —
The "$500 Crypto Retirement Plan?"
The #1 most-trusted person in cryptocurrency is releasing a new "$500 crypto retirement plan" on Wednesday, March 18, at 8:00 pm ET.
---
For the last six months, I've been on a world tour, jetting across the globe to investigate a millionaire-making event. And on Wednesday, March 18, I'll tell you why I chartered a $45 million private jet to take you to the epicenter of this phenomenon.
During this trip, you'll see with your own eyes the phenomenon is real, it's 100% guaranteed to take place, and it has the potential to mint millionaires in 2020 – just like it did the last time it happened in 2016.
I'll also officially release my new "5 Coins to $5 million" buy-list for 2020. You will be among the first to have the chance to learn the names of these five coins and how to access them.
Click here to reserve your seat and go on an adventure of a lifetime…