U.S. stock index futures pointed to slight gains on Tuesday following the market's worst decline in two years on concerns the coronavirus outbreak would dent global economic growth.
As of 6:37 a.m. ET, Dow Jones Industrial Average futures were up 110 points, indicating a gain of 132 points at the open. S&P 500 and Nasdaq 100 futures also traded higher. Dow futures briefly turned negative earlier in the session before rebounding.
---
— RECOMMENDED —
Generate Consistent Income Trading Options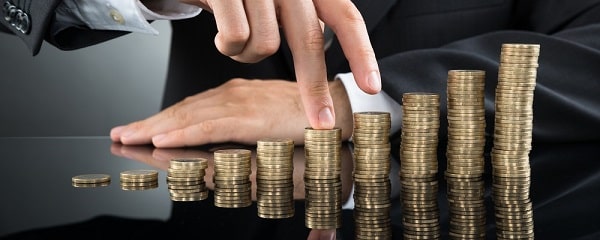 What would you buy if you can easily earn an extra $200 per week? $500? Maybe even $1,000?
Learn How ONE TRADE EACH WEEK can generate your consistent income.
---
The seesaw trading came after United Airlines and Mastercard warned about the potential impact the coronavirus will have on 2020 results. The shares added to their Monday regular session declines with United losing 0.4% and Mastercard dropping 2%.
Micron shares also kept a lid on market sentiment Tuesday after a Bank of America analyst downgraded them to underperform from hold. The downgrade sent Micron down more than 1% in the premarket.
Investors fled the stocks as a surge in coronavirus cases outside of China intensified fears of a prolonged global economic slowdown.
The Dow sank more than 1,000 points, suffering its biggest point and percentage drop since February 2018. The S&P 500 plunged 3.3%, also the worst drop in two years. With Monday's declines, the S&P 500 and the Dow both wiped out all of their 2020 gains.
The steep sell-off came as the coronavirus spread rapidly in other countries, especially South Korea, Iran, and Italy.
South Korea raised its coronavirus alert to the "highest level," with the latest spike in numbers bringing the total infected to more than 800. Meanwhile, Italy has been the worst affected country outside of Asia, with more than 130 reported cases and seven deaths. Iran also confirmed 12 deaths.
"The huge jump over the weekend to various other countries has many reassessing 2020 growth estimates," said Ryan Detrick, senior market strategist for LPL Financial. "We could see quickly decreasing earnings and growth outlooks."
CNBC's Jim Cramer warned investors against taking the move higher in futures as a sign the downside volatility could be ebbing.
"Things i need you to consider: 1. possible Milan to US outbreak, 2. GILD drug not working, 3. Moderna vaccine too far away, 4. eps weakness preannouncements," he said in a series of tweets. "I put those negatives out there because they are all possibilities and can't be overlooked. Which is why i don't like to buy into a rally."
But if history is any guide, stocks tend to rebound immediately following steep losses. Going back to 2009, the S&P 500 has returned 1% on average the next day the benchmark shed more than 2% on Mondays, according to Bespoke Investment Group.
Source: cnbc.com | Original Link