By Jason Bodner, editor, Palm Beach Insider
In 2017, cryptos were on a massive run…
Bitcoin had rocketed from a low of $747 to as high as $20,000. Other cryptos soared, such as Verge, which went up an incredible 1,000,000%.
There was serious FOMO (fear of missing out) in the air.
By December 2017, everyone and their grandmother was asking about bitcoin. People wanted in on the rally… But few were prepared for what was coming next…
Bitcoin crashed spectacularly, and we entered the brutal Crypto Winter of 2018. Many latecomers to the game got burned.
Now, I'm no expert in cryptos. But my colleague and world-renowned crypto expert Teeka Tiwari remains bullish on the space.
America's #1 Stock Picker Reveals Next 1,000% Winner (free)
I bring up the crypto crash not to say the stock market is setting up for one, too. I bring it up because now is not the time to go all-in on equities.
You see, when cryptos were on fire during their bull run, people were still piling in irrationally. I don't want you to make the same mistake with the stock market.
My data is signaling extremely overbought conditions. I've seen this movie many times. And today, I'll tell you how it ends…
---
— RECOMMENDED —
Hedge your entire portfolio for just $500? [Must-See]
One speculation could turn $500 into an extraordinary tens of thousands in a matter of weeks. And it has nothing to do with shorting, buying puts, or timing the market. But this rare opportunity could be the last good chance to get in. What's this investment?
Let this California man explain everything, right here.
---
Extreme Conditions
"Jason, will this rally ever stop?"
I can understand why people believe it may be different this time. No number of negative headlines – not even a raging pandemic, record-high unemployment, or nationwide protests – seems to stall this rally.
But here's my answer: "Of course, it will."
I've been saying that for weeks now. And the data – which I go by – backs me up.
Remember, my "unbeatable" stock-picking system scans nearly 5,500 stocks each day. It uses algorithms to rank each one for strength.
And to make sure it's highly accurate, comprehensive, and effective, I used my experience from nearly two decades at prestigious Wall Street firms – regularly trading more than $1 billion worth of stock for major clients.
But my system does more than just look at individual stocks. It also looks at the big-money buying and selling in the broad market through its Big-Money Index (BMI).
And here's what its data looks like right now…
Now, when the index level dips to 25% (the green line in the chart) or lower, sellers have taken the reins, leading the markets into oversold territory. And when it hits 80% (the red line) or more, it means buyers are in control and markets are overbought.
Currently, the BMI is still above 95%. So we're in extremely overbought conditions and due for a pullback. (As of this writing, the S&P 500 is down about 3% today.)
So what should we do now?
When the crypto market got frothy, savvy investors booked profits, once they realized a pullback was coming. (What Teeka calls "scooping some cream off the top.") Then they used those profits to buy quality crypto projects at cheaper prices.
We suggest a similar game plan for any winners you're holding…
---
— RECOMMENDED —
THE WAR ON GOLD 2020: Emergency Briefing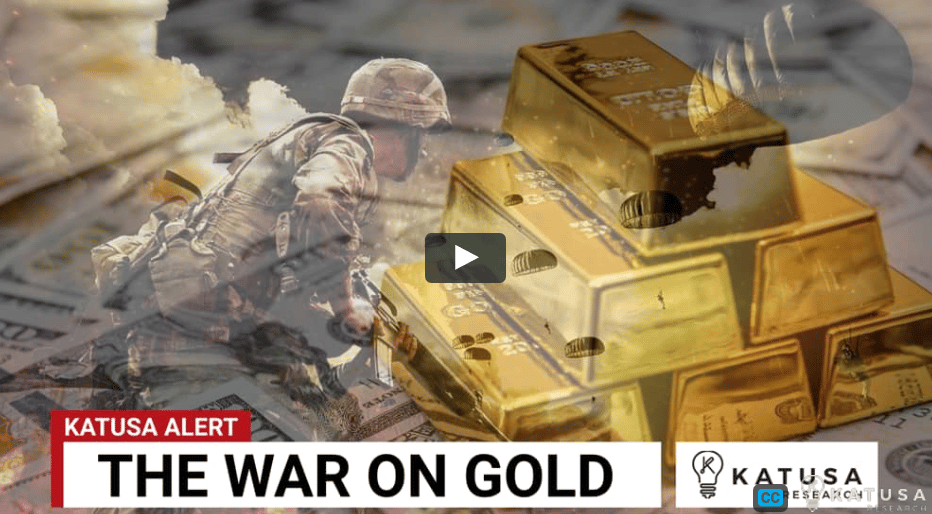 Hedge Fund manager and New York Times Bestselling Author details how you position your gold stock portfolio right now will have a huge impact on your wealth in the coming gold bull market.
Watch The Emergency Briefing Now
---
We've Seen This Movie Before
When markets reach nosebleed levels like they're at now, taking profits is how you stay ahead of the game
Remember, my system is so accurate, it was only one trading day off in predicting the March 23 bottom. The BMI – our market timing indicator – called for the trough to be on March 20. And now, it's pinpointing the top.
When my system signaled a bottom was coming soon, we closed several positions for profits in my Palm Beach Trader portfolio. Then we used the cash to buy a new crop of winners at bargain-basement prices.
One stock my system pinpointed was life sciences software firm Veeva Systems (VEEV). We added it to our list on March 17… and scooped it up when it pulled back the next day. Since then, it's up over 89%.
So if you're sitting on some nice gains, consider booking some profits now. You can use that money later to buy high-quality stocks when the market pulls back.
That's how you stay ahead of the game.

Access Dark Market Insights – 24 Hour Trades exploding as Much as 1,360%+
My "unbeatable" stock-picking system has identified several more potential outliers. We'll wait for the right moment to strike. As you know, timing is everything.
It's the same strategy we used to add double-digit winners like VEEV to my Palm Beach Trader portfolio.
Now, it's currently above its buy-up-to price. So I don't recommend establishing a position now. But with a current 83% win rate – and an average win of nearly 79% – my portfolio still has plenty of winners to choose from.
Plus, my system is identifying the next crop of outliers. And you can learn more about how it works right here…