I'll share with you what the TPS system is all about and how Nathan Bear uses it to consistently profit in the market. Read my honest Nathan Bear's TPS Setup Review here.
3 Trades For A Crashing Market
For the second straight week, I cut my long positions going into the weekend. Why would I want to jeopardize a solid week?
I already managed to pull in a 296.48% return on AMD in a matter of days, a quick $1,300 on BABA…and that's not to mention some quick trades in PTON and others. With markets crapping out right out of the gate, I felt no need to step in front of the train.
Markets definitely crashed – the Dow finishing down 600 points and the S&P 500 down 58 points. It was the worst day for stocks in six months.
But it got me stoked for Monday!
I see a lot of great trades out there, but I'm going to give you my top three ideas to start in February.
Smile Direct Club (SDC)
In full transparency, I dropped a long trade I had in this stock on Friday when I cleared the deck. However, I still love this stock's setup.
SDC was a 2019 IPO back in September. It didn't get a lot of love and crashed out from $20 to $8. From November to December it built a really nice base. After a swift move upward, it's consolidating in a great TPS setup formation.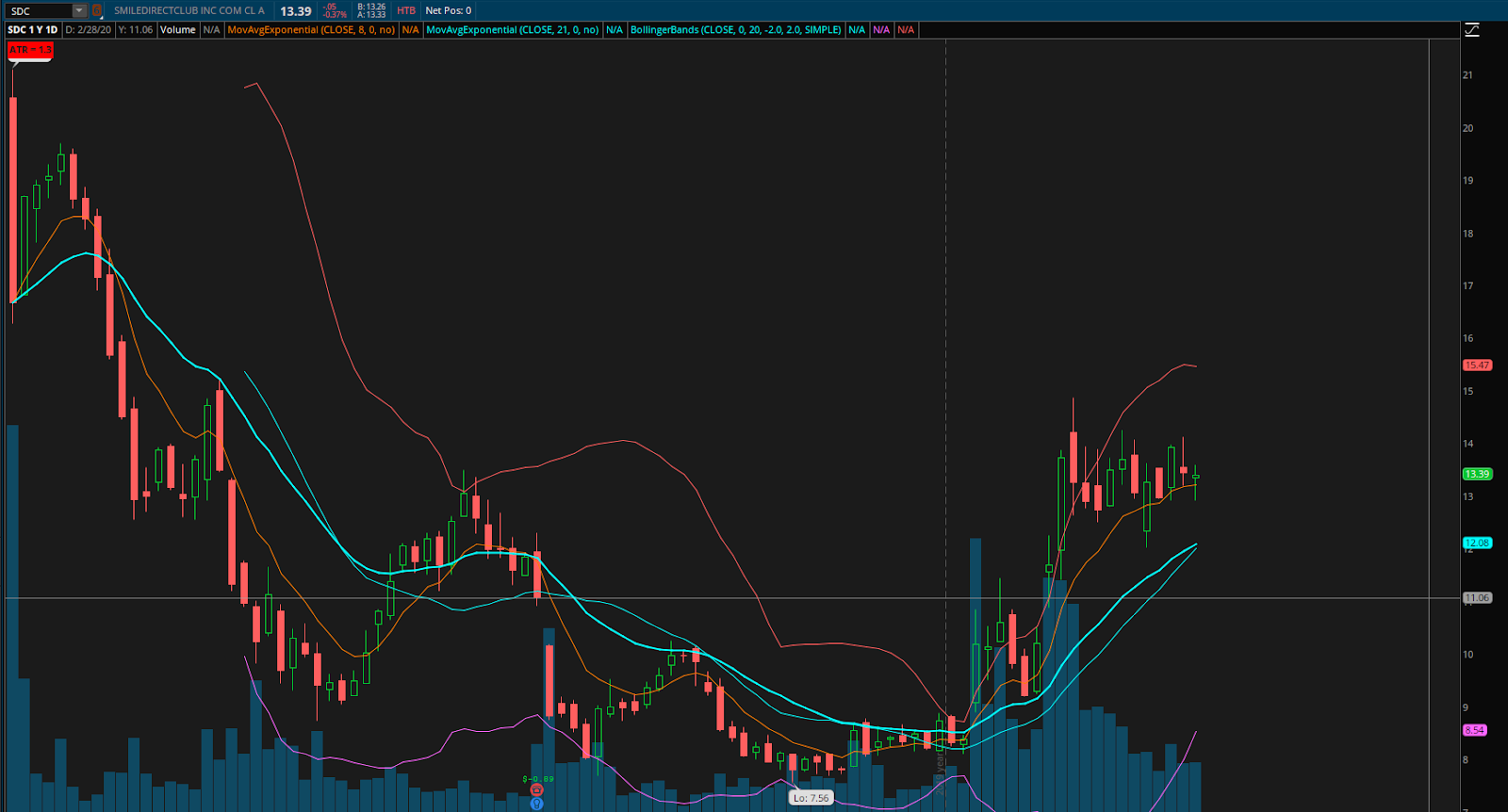 SDC Daily Chart
The TPS setup for my SDC trade comes courtesy of the 130-minute chart and has all the components that make a great setup for me.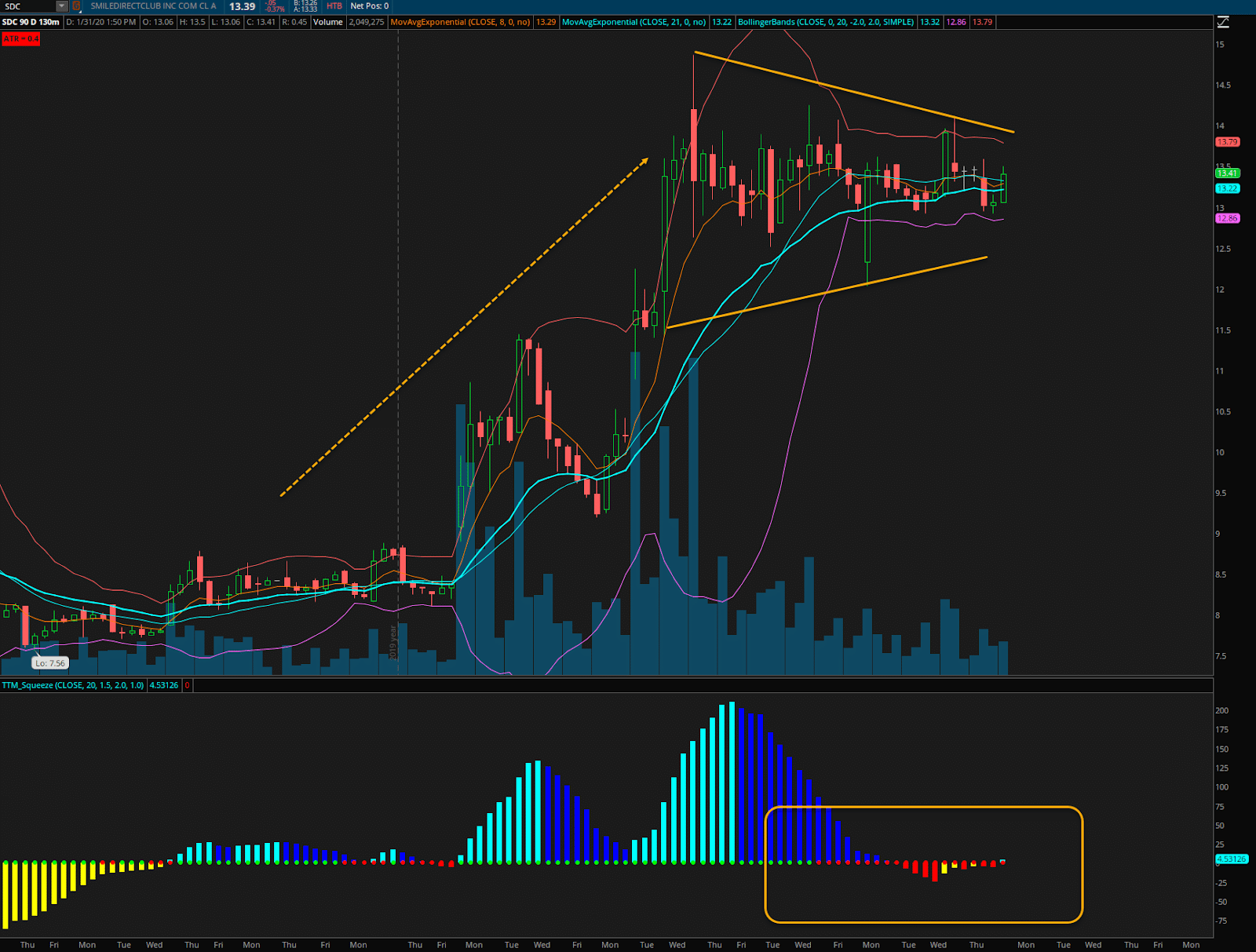 SDC 130-Minute Chart
As a refresher the TPS setup has three pieces:
Trend – Established trend that's easy to see, usually from a sizable move.
Pattern – Chart consolidation pattern. In this case, we have a triangle
Squeeze – A squeeze happens when the Bollinger Band moves inside the Keltner Channel. This is indicated by the red dots at the bottom.
Normally, I'd try to play this off the space between the 8-period and 21-period exponential moving averages. However, if we're in a hard sell market next week, I may wait for the lower Bollinger Band before I try to take a position.
World Wrestling Entertainment (WWE)
This stock got shellacked last week on earnings. The company announced a management reshuffle, poor earnings, and a host of other problems.
When the stock opened up down over 20%, it seemed like game over. But then it rallied back some and now the makings of a great TPS setup are going with a fantastic risk/reward.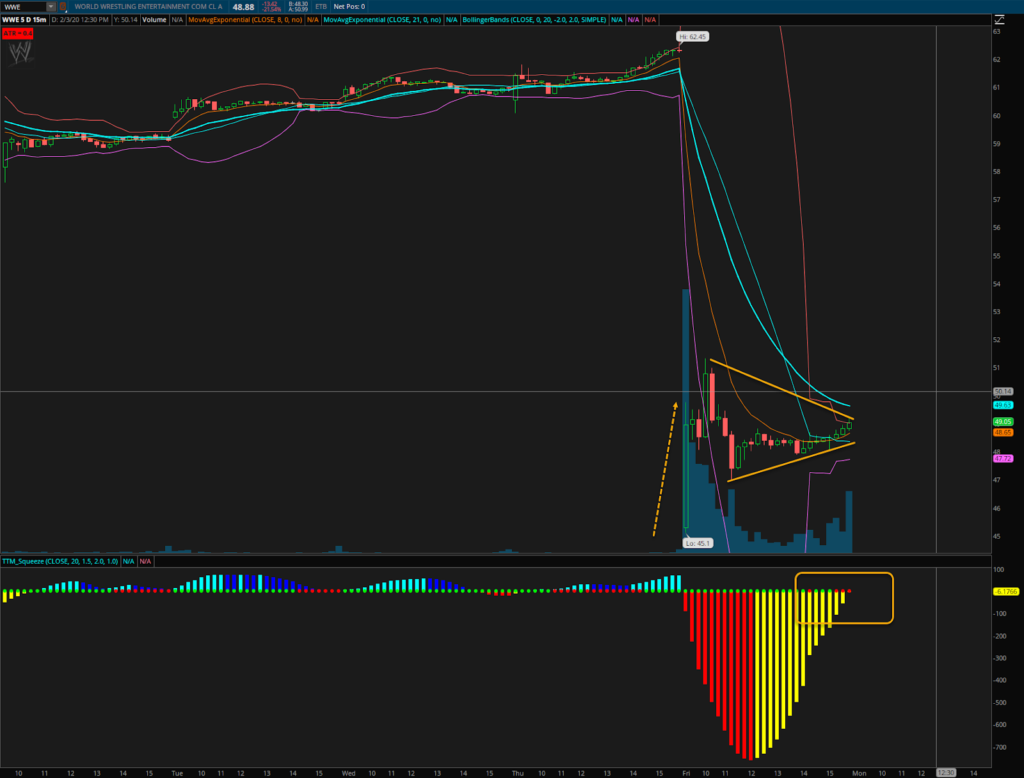 WWE 15-Minute Chart
You can see the elements of the TPS setup forming. The only issue I have with this chart is that the consolidation is a little sloppy at the moment. However, the momentum has shifted higher, which bodes well for next week.
I expect this stock will trade more independently of the broader market because of who they are as well as this recent move. That makes this an ideal play in a wild week.
Luckin Coffee (LK)
I've traded this stock a few times in the past few months. Friday's action wasn't much of a surprise given this is a Chinese coffee chain and they reported possible accounting fraud.
But the reaction off the bottom makes me think the TPS setup forming on the 5-minute chart could be a quick pick for Monday.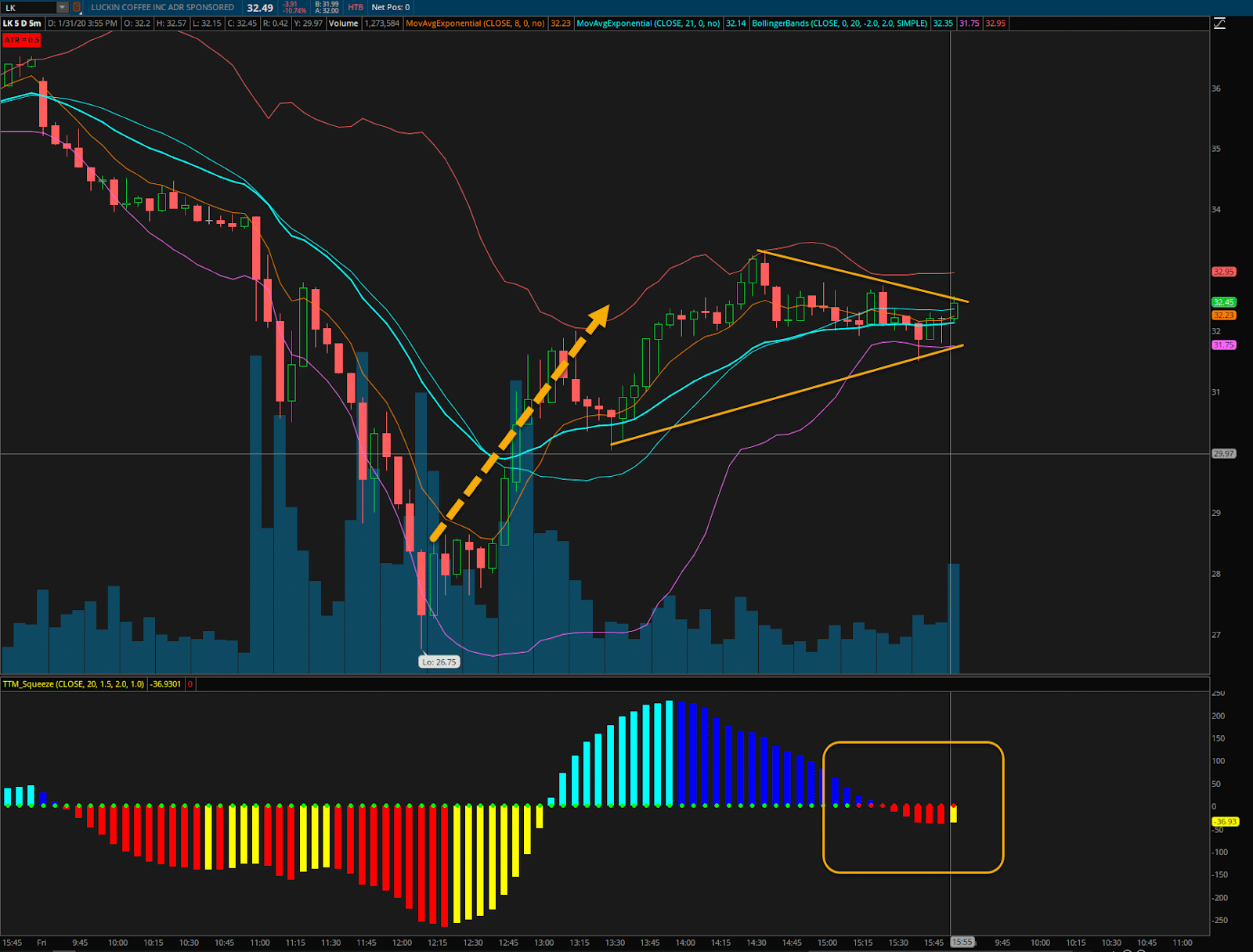 LK 5-Minute Chart
This stock experienced a massive short squeeze the weeks prior that doubled shares. The hard bounce off the bottom leads me to believe that the run for this stock isn't over.
The TPS setup shows a solid move off the bottom, a consolidation pattern forming (though I wish it was a little cleaner), and a squeeze with momentum shifting upward.
Since LK trades in wide ranges, this could easily be a major winner if we get a major snapback next week. With this being the 5-minute chart, I want to see this play out pretty early in the week.
Picking Through The Wreckage
I plan to start scouring through the rubble from the market sell-offs. When stocks turn around, I want to take the ride higher with my options trades.